Veritas Global: Russia's ban on direct flights to Georgia will harm both sides
By Nika Gamtsemlidze
Friday, June 28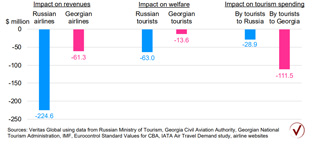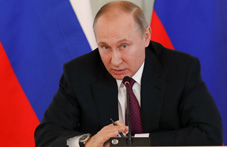 On June 21, 2019, the President of Russia, Vladimir Putin, issued an executive order, which prohibits Russian airlines from carrying passengers from Russia to Georgia starting on July 8.
A statement published by the Ministry of Transport of the Russian Federation reads that Georgian airlines will not be allowed to land in Russia.
Currently, 98 direct flights are operated per week by 6 Russian carriers between Russia and Georgia, offering 76% of the available seat capacity. On the other hand, Georgian carriers operate 38 flights, providing 24% of the seating capacity.
According to the Veritas Global, a boutique consultancy based in Geneva, Switzerland which provides economics and strategy advisory services worldwide, because of the ban economy of both sides will be harmed. Russian airlines will be worst impacted and stand to lose $225 million in revenue per year, while Georgian airlines will face revenue losses of $61.3 million.
As George Anjaparidze, CEO of the Veritas Global noted: "the proposed ban will have negative consequences for both countries, but Russian airlines stand to be impacted the worst."
Visitors from Russia, which make up about 82% of direct travelers, will experience a loss in consumer welfare of $63 million compared to $13.6 million losses for travelers from Georgia.
As the assessment issued by the Veritas Global reads, tourism spending will also be impacted. Georgia can expect lower tourism spending of $111.5 million per year due to a reduction in passengers from Russia, while spending in Russia by Georgian tourists will also decline, resulting in a decrease of $28.9 million.
The National Bank of Georgia (NBG) also published a special statement regarding the exchange rate of the National Currency. According to the report, Georgian Lari is affected by various internal and external factors, including expectations.
NBG's statement reads that it is difficult to make accurate predictions at this time, but according to the initial calculations, the reduction of tourism flows from Russia will impact Georgian Economy with 200-300 million USD during the rest of the year.
"Today's situation shows that the loan and income currencies are better to be the same, as the National Bank has repeatedly stated. In this case, the borrower will not be vulnerable to the exchange rate," reads the report.
The statement also touched upon the problems of Georgian Economy in previous years, as the report said, "Georgia has a successful experience of dealing with the crisis caused by external shocks."
The decision of the Russian President to cancel flights between Russia and Georgia came after protests in Tbilisi, sparked when a Russian MP addressed the Interparliamentary Assembly on Orthodoxy from the Speaker's seat in the Georgian Parliament.
According to Russian representatives, the decision was made to "ensure the National Security of the Russian Federation."
Veritas Global is a Swiss company based in Geneva, providing economics and strategy advisory services worldwide. Its vision is to have a positive impact on the world through accurate advice formed by profound analysis.