Georgia plans to increase wheat imports from Kazakhstan
By Tea Mariamidze
Thursday, July 11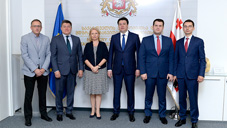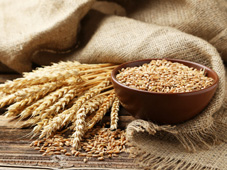 Georgia is going to import more wheat from Kazakhstan than before. The issue was discussed at the meeting of Minister of Economy and Sustainable Development of Georgia, Natia Turnava, with the Chairman of the Board Rinat Akberdin and the Director Nurbek Daibekov of the large Kazakhstan state corporation – the Prodcorporation.
The visit of the Working Group of a large Kazakhstan Corporation took place within the framework of the agreement reached during the visit of the Prime Minister of Georgia, Mamuka Bakhtadze to Kazakhstan.
Turnava stated that the increase of the wheat import from Kazakhstan would enable Georgian market to increase wheat supplies and diversify the market.
The minister expressed the hope that the negotiations will lead to beneficial agreement and the wheat from Kazakhstan will enter the Georgian market at a competitive price this year.
"The increase of wheat import from Kazakhstan will make wheat products for our population more available at a better price," she said, adding that the visit of the Kazakhstan delegation is held within the joint request of the Kazakhstan Ministries of Infrastructure Development and Agriculture.
The Chairman of the Wheat Association of Georgia, Levan Silagava, also participated in the meeting. According to him, the sides discussed the issue of importing a large amount of wheat to Georgia.
"Such meetings and negotiations are crucial for Georgia because they are result-oriented and aim at diversification of the Georgian market," Silagava said after the meeting.
In January-May, 2019, 171,000 tons of wheat and meslin, a mixture of rye and wheat, was imported in Georgia.
Based on the official statistics of Georgia's National Statistics Office, out of total 171,000 tons of wheat, 117,000 tons were imported from Russia and only 54,000 tons from Kazakhstan. So far this year, Georgia has not imported wheat from another country.
The data of the first five months of the year read that out of 117,000 tons of wheat and meslin imported from Russia, 44,422.3 tons were imported by sea and 46,772.7 tons by motor transport and 25,875.3 tons by rail.
To note, in 2018, 575,000 tons of wheat and meslin were imported to Georgia, 482,000 tons from Russia, 88,865 tons from Kazakhstan and only a small part from Ukraine and Turkey.
Since 2014, the largest share of wheat import in Georgia comes to Russia. Some economic experts believe that after the travel ban with Georgia imposed by the Russian President Vladimir Putin on June 21, and after tightening of the Georgian wine export to Russia, wheat import in Georgia might also face a threat.