Who do we talk about when we talk about far-right extremism in today's Georgia
By Marita Sparrer-Dolidze
Wednesday, November 20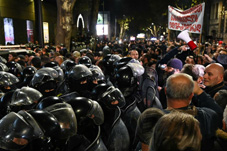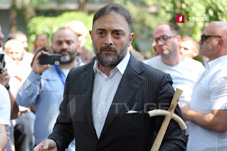 "Liber was a patron deity of Rome's plebeians and was known for his fondness of sexual perverseness and alcohol abuse." – the author of this legendary quote is Levan Vasadze, founder of Georgian Demographic Society XXI, famous for his homophobic and Russophile tendencies. He was the one who wanted to remove terms 'sexual orientation' and 'gender' from the Anti-Discrimination Law in 2015.
His organization members were among those protesting the screening of Levan Akin's And Then We Danced, a beautiful movie covering the daily struggles of two homosexual dancers of traditional Georgian dances. A few days ago the far-right extremists gathered in front of major movie theaters in Tbilisi, Georgia and tried to attack people attending the screening. Other big groups represented at the protest were The Georgian March and Guram Palavandishvili's Kids' Rights' Protection Society, which referred to the movie as a "sodomist film" aiming to take away national values from Georgian citizens. Although the absolute majority of Georgian citizens are not supporting their ideas, to my thinking, these groups are not at all hackneyed and harmless and they damage Georgian society and its development in a myriad of different ways.
Abusing nationalism for political purposes is emblematic for Georgia as well as the rest of the post-Soviet nations. In these countries, the construction of democracy largely was defined by coming to terms with extreme nationalism, and by integrating ethnic elements into political systems. Continuing the tradition, the far-right extremist groups in Georgia represent not only impaired ideas of nationalism but also the authority of the Russian soft power in Georgia. The "quasi-god of Georgian radicals" Levan Vasadze, along with his comrades, target mainly LGBTQ+ persons, religious groups and migrants.
Democracy Research Institute (DRI), based in Tbilisi, Georgia, conducted independent research on these radical groups. Markedly, the researchers examined 1043 articles published, and 2272 social media posts made by the representatives of the groups. Ketevan Murgulia of DRI concludes that it is plausible that these groups, as the main spreaders of hate speech in Georgia, will eventually gain more power. No wonder these far-right extremist groups mainly proliferate anti-NATO, anti-EU messages and encourage violence. Some of the most alarming examples of their vicious actions include 2018 demonstration of the fascist group in Tbilisi, the members of which marched the streets with the Nazi salute; another one was the 2013 protests on 17 May when thousands of citizens, mainly affiliated with the aforementioned extremist groups, violently attacked and beat the participants of anti-homophobia rally, which was organized by Tbilisi-based Identoba.
Another prominent member of the far-right extremist groups in Georgia is the Georgian Idea, founded in 2014. Its main ideology is based on the aspiration that Georgia restores the monarchy and we balance our external politics by rejecting NATO and the EU aspirations of Georgia and becoming closely allied with the Russian government.
Know your enemy or, in our case, the radical groups that claim to be driven by their thirst for restoring the correct nationalists' order of Georgia, whatever it might be. These egregious groups threaten the democratic development of our country and push the political agenda that our country becomes isolated, with cultural and political boundaries becoming congruent with the ones of the Russian Federation.
Being historically ethnically heterogeneous and a very much European society serve as pillars still upholding Georgia's commitment to democratic values and pro-NATO and pro-EU aspirations. The far-right extremist groups in Georgia, however, threaten this pledge on a daily basis with their destructive actions on the streets and social media platforms.