Georgian Patriarch urges people to take care of their homeland, while Ivanishvili offers opportunity for legal employment in other countries
By Levan Abramishvili
Tuesday, December 10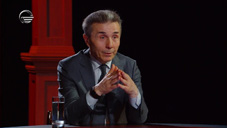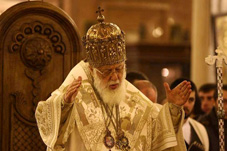 Ex-Prime Minister and the founder and chairman of the Georgian Dream, businessman Bidzina Ivanishvili said that in the next 20 years Georgia would not be able to create a large number of jobs years and suggested that employing people in European countries would be the solution.
In an interview with Imedi TV, he said that in 2-3 years, Georgian citizens, those who are currently unemployed and those in illegal migration (an estimate of about 2 million people, according to him) will be able to work legally in EU countries.
According to Ivanishvili's scheme, vocational colleges should be opened in all parts of Georgia, where specialists will be trained for the European labor markets free of charge. They will be able to legally work in the EU countries, like the citizens of Poland, the Baltic States or Bulgaria. He also said the government will increase the subsidies for cheap flights so that those working abroad can fly home and visit their families at least once a month, for 35 euros.
After visa liberalization with Schengen countries has entered into force for Georgian citizens, negotiations began with several EU member states.
According to the Ministry of Foreign Affairs, they are working in cooperation with the Ministry of Health to facilitate temporary labor migration with European partners.
It is noteworthy that in 2009, the EU-Georgia Mobility Partnership declaration was adopted, which aims to facilitate legal migration, prevent and combat illegal immigration and human trafficking, based on reciprocity.
Last year, the French National Assembly ratified the agreement (signed in 2013) on the Residence and Circular Migration of Skilled Professionals with Georgia and became the only country establishing an institutionalized circular migration scheme with Georgia from among the 16 EU Member State signatories of the 2009 declaration.
The agreement offers a temporary residence permit to Georgian citizens seeking to study and obtain professional experience in France and allows for up to 500 Georgian citizens to be employed and 150 quotas for young scholars.
During her visit to Georgia in August 2018, the German Chancellor Angela Merkel also said that Germany would set up working quotas for Georgians to provide legal jobs.
The above-mentioned agreements would provide for 'legal circular migration,' as Ivanishvili said. This helps eliminate many harmful aspects of labor mobility.
European institutions define circular migration as "a form of migration that is managed in a way allowing some degree of legal mobility back and forth between two countries." It is also regarded as best leading to economic growth, avoiding brain drain and other negative consequences for a source country that often follows irregular illegal migration to which Georgia is not new, as the country has lost substantial labor force to migration after the Soviet Union's dissolution.
However, Ivanishvili's cure-for-all attitude towards circular migration wasn't received very well within the opposition and experts.
The Human Rights Education and Monitoring Center (EMC) social program director Kote Eristavi told Netgazeti that even though there exists such experience, it's unimaginable that circular migration could be the main tool to combat widespread unemployment in the country.
"In reality, it is not a policy of development but a policy of survival. The government capitulates and decides there is no other way out, encourages you to emigrate and does its best to prevent you from being an illegal immigrant, which is not a negative thing, but offers nothing else and has given up on the state's development," said Eristavi.
One of the leaders of European Georgia Giga Bokeria mentioned that with every passing day that Ivanishvili is in power poses a danger to the country.
"If you let him talk for long enough, this man usually says almost everything concealed in his very volatile mind, which is dangerous for the country. …The common national task now is to change the government as soon as possible, preferably through proportional early elections, since every day this man has influence is another danger for our country as a whole," said Bokeria.
However, an unlikely opponent came out to combat the migration of Georgian citizens to other countries. Catholicos-Patriarch of Georgia Ilia II addressed the issue after Sunday worship on December 8.
Patriarch encouraged people to stay in Georgia and take care of their lands.
"Citizens of villages and towns are going abroad to serve elderly there, this is not bad, but why are you going there, we should take care of our homeland here," said the spiritual leader of the Georgian Orthodox Church. "Foreigners come and buy houses, settle in our villages and towns. …I offer my blessing to spread this wish throughout Georgia and save our village," he added.
Even though the Patriarch often takes a public stance against such issues, last month even urging women to stay at home and care after children instead of working, it seems to be influenced by the ongoing debate on circular migration in the country.
Unfortunately, both the de-facto and spiritual leaders of the country seem to be severely out of touch with reality, which is caused by decades of being isolated from the real, everyday lives of the Georgian citizens, who have to work several jobs to somehow sustain themselves and their families.
In a country where the average minimum subsistence is GEL 168.2, it cannot be justified to criticize those who choose to go and seek a better future for themselves and their loved ones. Offering circular migration as the only tool in the fight against unemployment can only be read as giving up hope for sufficient life in our homeland.