Nika Melia to become the new head of the United National Movement party
By Veronika Malinboym
Monday, December 28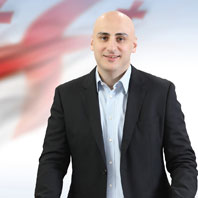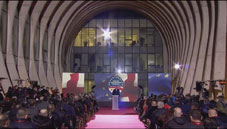 The UNM is up for a second reshuffle as Nika Melia is expected to become the new chair of the party according to the latest opposition party polls. Out of 20,779 votes, Melia received 13,491 votes (64.9%), while his main competitor, Levan Varshalomidze gained 7,288 votes, 35.1 %.
The poll was launched on December 21, after the former head of the party Grigol Vashadze announced he was leaving the UNM. Vashadze claimed that the reason behind his decision was the presence of the "odious figures" in the party, as well as the continuous attacks on the dip corps, and many other controversies. In his Facebook post, Vashadze also claimed that he believes he has done his best for the party, ever since he has become the party's head in January 2017, however, he strongly disagrees with the recent tactics that the UNM leaders are choosing without consulting with other party members.
Nika Melia is an opposition MP, who has been a member of the Georgian Parliament from November 2016 to December 2019 and was running for the Tbilisi mayor position in 2014. Melia has also acted as the governor of the Mtatsminda district since 2010. In 2019, Melia was stripped of the MP immunity on charges of inciting and arranging public unrest and violence. While on bail for the previous charges, Melia was also involved in a high profile Cartu Bank case, in which Tbilisi City Court found Melia guilty of the abuse of authority and banned him from undertaking public office for two years and three months, as well as a fine of GEL25,000.
Varshalomidze, who competed with Melia for the party chairmanship, congratulated him on the victory. In turn, Melia has welcomed the 'innovative' form of electing the party leadership, which was both 'inclusive and transparent' (since only the verified users were able to vote).