Israeli Ambassador concerned by the Anti-Semitic sermon of several Georgian priests
By Veronika Malinboym
Tuesday, January 12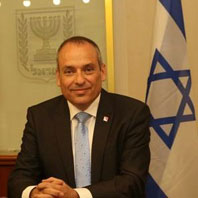 His Excellency Ran Gidor, acting ambassador of Israel to Georgia has recently taken to Facebook to express his concerns about the anti-Semitic rhetoric that was spotted in the Christmas sermons of several Georgian priests. He began by saying that in his New Year congratulations to the country, he expressed his sincerest hope that the friendship between Georgia and Israel communities will be strong as ever in 2021, and there will be no place for anti-Semitism, racism, and bigotry in the Georgian. "Unfortunately, I was wrong" – wrote the Ambassador.
He went on to say that on January the 4, a Deacon of the Kutaisi Trinity Cathedral, Ilia Karkadze, voiced the "anti-Semitic conspiracy theories" that were "reminiscent of some of the worst blood-libels and anti-Jewish hate propaganda of 1930s Europe". According to the Israeli Ambassador, this was not the only occurrence, as two weeks prior to the incident with the Deacon Ilia Karkadze, Metropolitan of the Kutaisi-Gaenati Diocese and the member of the Holy Synod, Ioane Gamrekeli "had delivered his own highly controversial and problematic sermon, parts of which could have been interpreted as anti-Semitic".
The Ambassador said that after spending several years in Georgia, he is confident that the majority of people here do not share such alarming views, and, to the contrary, have peacefully coexisted with the Jewish community for more than 2 millennia, and the Jewish community was subjected to a much lesser and a rarer anti-Semitism, than the communities elsewhere in the world.
His Excellency Ran Gidor has also reminded that in reciprocity to the kindness of Georgian people, Israel has invested in the Georgian economy by training more than 1,500 Georgian citizens in Israeli medicine, education, agriculture, and high-tech, as well as organized numerous humanitarian projects and assisted in Georgian fight against the spread of COVID-19 pandemic. On top of that, Georgia has been one of the primary destinations for Israeli tourists, as a record, 200 000 of them visited Georgia in 2019 making it "the biggest group of any country which is not an immediate neighbour to Georgia".
With the upcoming International Day of Commemoration of the Holocaust on January 27th, and as a "son of a 91-year-old Holocaust survivor", the Ambassador has called upon the Georgian government and Patriarch Ilia II to publicly condemn the hateful sermons and anti-Semitic speeches. The Georgian Minister of Foreign Affairs David Zalkaliani responded on his Tweeter page by saying that not even the slightest expression of anti-Semitism may find its place in the "hearts and minds of Georgians".