PACE calls on all political parties to claim seats in Parliament
By Veronika Malinboym
Monday, January 18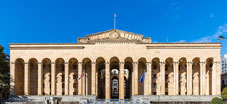 On January, 11 the Parliamentary Assembly of the Council of Europe released a report on the progress made by 14 countries in 2020, including that of Georgia. While the report applauded the effort made to achieve the March 2020 agreement and the shift towards a more proportionate election system, it has also noted that despite the agreement, the "political climate in Georgia remains polarised and contentious".
In its report, PACE is calling for all political parties to take up their seats in Parliament and to ensure its democratic functioning. PACE report also notes that the decision of the opposition bloc to boycott the seats is especially unfortunate because joining the Parliament would provide it with a much more significant political leverage. The report has also referenced the findings of the International Society for Free and Fair Elections (ISFED), Transparency International, and the international observation missions, all of which concluded that the October 2020 Parliamentary Elections were "competitive" and were held in a way that respected fundamental freedoms and the parties' ability to "campaign freely". Nevertheless, the report also notes the "uneven playing field" and "abuse of the administrative resource" that was determined by the international monitoring organizations.
On January, 15, Transparency International Georgia (TIG) released its own report on the campaign financing in Georgia's 2019 Elections. According to the report, a total of 38,6 million GEL was received by the studied election subjects between September, 1 and November, 17. Georgian Dream received almost half of the aforementioned amount – 17.3 million GEL (46%), Lelo received 6 million GEL in financing and the UNM- UOPU received 5.7 million GEL. The TIG report recommends the country to establish a new, anti-corruption agency to monitor and adequately respond to the "alleged cases of political corruption, including corrupt transactions between donors and the parties, and illegal financing schemes".
In a recent interview, the Mayor of Tbilisi Kakha Kaladze told PalitraNews that he would be very happy if the opposition parties decided to end the boycott and join the Parliament. "I want to reinstate that the current convocation of the Georgian Parliament does not only consist of one party, as one more party is also represented there. I would be very happy if the opposition parties decided to join the Parliament instead of being the hostages of one specific person – Mikhail Saakashvili", said Kaladze.
According to the 2020 election results published by the CEC, the ruling Georgian Dream party has won the majority of seats, and, as of today, 8 political parties are yet to join the newly formed Parliament.