Georgian PM Garibashvili tests positive for COVID-19, President Zurabishvili self-isolates
By Veronika Malinboym
Wednesday, April 7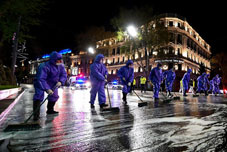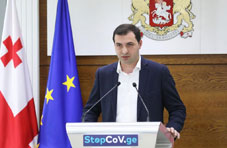 Prime Minister of Georgia Irakli Garibashvili tested positive for COVID-19, PM's office announced earlier today. The office confirmed that the prime minister is now in self-isolation but feels fine and will continue to work remotely.
"I tested positive for COVID-19. I am currently in self-isolation, but I am feeling well and I continue to work remotely," PM Garibashvili posted on his Facebook page.
President of Georgia, Salome Zurabshvili, has also moved into self-isolation after having been in contact with PM Garibashvili a few days ago, despite having received the first shot of AstraZeneca vaccine earlier in March. The Zurabishvili's press office reported that the president would take a PCR test as per the protocol.
Earlier today, Head of Labour Inspection of Georgia Beka Peradze announced that amidst the rising fears of the third way of pandemic in Georgia, the government is introducing a new set of regulations which will prohibit renting of the property for the purpose of organizing social events. Peradze added that according to the new regulations, the property owner will be obliged to report any social event that is held on the premises of their property, as the failure to do so may result in a fine of $3,000 (approximately GEL10,000).
Deputy Health Minister of Georgia Tamar Gabunia, has also stated earlier today that in case the government considers it necessary to introduce further regulations, the restriction of movement will be among the first possible options to consider. Gabunia added that the concrete plan related to the Orthodox Easter celebrations has not been drawn yet, noting the government would come up with it in April:
"Everything will depend on how well the society follows the rules that have already been established. It will determine whether or not we will have to reintroduce stricter measures," said Gabunia.
As of today, 897 new cases of COVID-19 have been confirmed in Georgia, 463 of which were recorded in Tbilisi. Over the last 24 hours, 196 patients have made a recovery, and 10 have died. The total count of confirmed cases in Georgia since February 2020 has reached 284,958.