President Zurabsihvili pardons co-founder of the opposition Mtavari Arkhi TV Channel
By Veronika Malinboym
Wednesday, April 28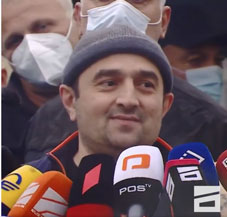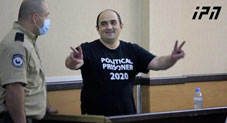 On April 27, President of Georgia Salome Zurabishvili pardoned the co-founder of the opposition Mtavari Arkhi TV Channel Giorgi Rurua as some members of the country's opposition bloc entered the Parliament. In a post on her official Facebook page President Zurabishvili welcomed the beginning of the first stage of the implementation of the EU-proposed agreement, and emphasized that by signing the pardon of Giorgi Rurua, she kept to her word:
"I welcome the fulfillment of the first phase of the agreement! On my part, I kept my word and signed the act of pardon! Congratulations on the election of Kakha Kuchava as the Speaker of the Parliament! Congratulations to all the MPs who used the mandate given by the people for the first time today and entered the Parliament! Good luck to everyone!", read the post.
Shortly after his release, Giorgi Rurua spoke to journalists and urged all political parties to enter the parliament:
"Now Nika [Melia] should leave prison quickly as well. I think National Movement and other parties should enter the parliament."
Co-founder of the opposition-minded Mtavari Arkhi TV Channel was detained on charges of the illegal possession and carrying of the firearm in 2019, and, despite the opposition's repeated calls for his release, was sentenced to four years in prison in by Tbilisi City Court in July 2020. The country's opposition bloc refers to him as a political prisoner and continue stating that his detention and the consequent sentence were politically motivated.
On April 19, President Zurabishvili announced that she would pardon Rurua if the opposition parties enter the Parliament and sign the EU-backed agreement. In her tweet earlier last week, the president of Georgia stated that she would take it upon herself to end the political deadlock:
"Pardon is not a political decision. It must not be subject to interference, pressure, or negotiations. But I take upon myself the duty to end the deadlock. I will pardon, but only once the parties sign the final agreement and the EU/US announce that an agreement has been reached," President Zurabishvili said in her post.