The News in Brief
Thursday, September 22, 2022
Prepared by Messenger Staff
Georgia-EU Parliamentary Association Committee held in the Parliament of Georgia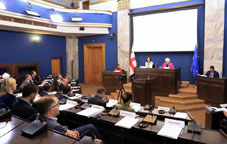 The eleventh session of the Georgia-EU Parliamentary Association Committee was held in the Parliament of Georgia.
The co-chair of the meeting, Marina Kaljurand, addressed the audience with a welcoming speech:
"The European Union has officially recognized the European perspective of Georgia. This decision was a historic moment in our relationship. "If the political forces put aside their differences, overcome polarization and concentrate on the main priority with joint efforts, Georgia's candidate status will be guaranteed," said the MEP.
After the welcoming speeches, the Deputy Minister of Foreign Affairs of Georgia, Teimuraz Janjalia, and the Ambassador of the European Union to Georgia, Pawel Herczynski, spoke at the session regarding Georgia-EU relations.
The topic of discussion at the session was the consolidation of democratic reforms in Georgia and the protection of fundamental freedoms.
At the meeting of the Georgia-EU Association Parliamentary Committee, they discussed the peaceful resolution of the conflict in Georgia and the impact of Russia's aggressive war against Ukraine on Georgia; Georgia's reconciliation policy towards the occupied regions; International negotiations of Geneva, and activities of the EU monitoring mission.
"Lelo" comes up with the initiative of legislative changes on a visa regime for Russian citizens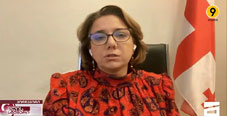 "Lelo for Georgia" came up with the initiative of legislative changes on the establishment of a visa regime for Russian citizens.
The political secretary of the party, Salome Samadashvili, said at a briefing in the parliament that changes should be made to the law "On the legal status of foreigners and non-citizen persons". According to the changes, a strict and short-term visa regime should be established for Russian citizens. According to her, the law will take into account exceptions.
"Lelo" party appealed to other opposition parties for support.
On September 21, the chairman of "Georgian Dream", Irakli Kobakhidze, said that the establishment of a visa regime for Russian citizens is not considered in any way.