The News in Brief
Thursday, November 24, 2022
Prepared by Messenger Staff
Russia's State Duma approves document on socio-economic promotion of occupied Abkhazia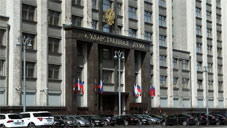 The State Duma of Russia ratified the agreement on state support for socio-economic development of occupied Abkhazia in 2022-2025 at the plenary session. The information was released by the Russian government media.
The Russian Cabinet of Ministers submitted the document for ratification on November 10, and the parties signed the agreement on August 4. The document regulates the issues of financial assistance for the implementation of the state program of social and economic development of Russia occupied Abkhazia.
The implementation of the agreement aims to fulfill the international obligations assumed by the parties when concluding the agreement on alliance and strategic partnership. According to their explanation, it is not about obligations in the fields of defense, security and law enforcement.
The agreement also defines the authorized bodies of the parties "on issues of interaction and assistance in the implementation of the State Program of Socio-Economic Development of Abkhazia".
In addition, the agreement defines the procedure and conditions for co-financing of activities by Russia within the framework of the state program, as well as control measures and responsibility for non-fulfillment of financing conditions and non-fulfillment of the main target indicators of the implementation of state program activities.
Parliament of Georgia writes to Venice Commission regarding Ukrainian law on 'de-oligarchization'
The Chairman of the Parliament of Georgia, Shalva Papuashvili, stated that the Parliament of Georgia has written to the Venice Commission to find out the status of the law on de-oligarchization of Ukraine, since the Georgia's draft law on 'de-oligarchization' is an analogue of Ukrainian one.
Papuashvili stated that the US ambassador made "a confusing statement" from which 'radical' opposition is 'profiting from, and no one officially refused to discuss the law:
"Unfortunately, the confusing statement of the US ambassador yesterday caused a stir in the radical opposition. It is unfortunate that confusing statements are made regarding such substantive issues. We have seen a response from the European Council that this project is still being discussed. In addition, my cabinet also wrote to the Venice Commission yesterday to find out what the status of this project is, and we are waiting for an official response.
It is a fact that no one has officially refused to review the Ukrainian law, also, we have not received such information from the EU representatives. Maybe [the ambassador] had the wrong information. It is important that such confusing statements are not made in this process, because only radical groups benefit from this," he said.
US Ambassador to Georgia Kelly Degnan said on November 22 that "the law that was drafted by Ukraine and forwarded to the Venice Commission has since been withdrawn and is not awaiting a conclusion at this stage."