The News in Brief
Monday, March 20, 2023
Prepared by Messenger Staff
Bill Browder Calls on EU to Impose Sanctions on Those Responsible for Mikheil Saakashvili's Case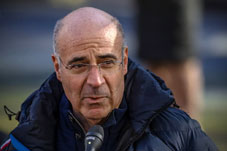 Bill Browder, the author of the Magnitsky Act, called on the European Union to impose sanctions on those people who are responsible for the condition of Mikheil Saakashvili in prison in an interview with POLITICO.
Browder said that it is time for the European Union to expand its sanctions list to include people who violate human rights in Georgia.
According to Bill Browder, in the case of Saakashvili, the facts of violation of human rights are obvious and quick action is needed, because Saakashvili's life is in danger.
"There needs to be quicker action in this case because if nothing is done, he is going to die," Browder said.
"The Magnitsky sanctions are not Russian sanctions. These are global . it applies globally. And if somebody is found to be a human rights violator, someone is perpetrating gross human rights violations - which I think is obvious in his case - then the sanctions should apply."
Mikheil Saakashvili appealed to the author of the Magnitsky Act, Bill Browder, to help create a new Magnitsky list in connection with his case, to prevent "lethal consequences". Bill Browder responded to Saakashvili on January 8 and asked him to hand over the documents that would indicate who is responsible for Saakashvili's torture and poisoning.
James Cleverly Visits Village of Odzi Near Occupation Line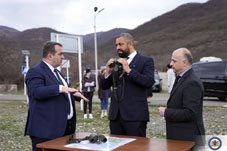 Secretary of State for Foreign, Commonwealth and Development Affairs of the United Kingdom James Cleverly, within the framework of his official visit to Georgia, visited the village of Odzi near the occupation line.
According to the Ministry of Foreign Affairs, the First Deputy Minister of Foreign Affairs, Lasha Darsalia, and the Deputy Director of the Information and Analytical Department of the State Security Service, Irakli Antadze, informed the British guest about the difficult humanitarian situation on the territory. Lasha Darsalia drew attention to the importance of supporting the international community in relation to the sovereignty and territorial integrity of Georgia.
James Cleverly also visited Odzi village high school and met with teachers and school students, as well as civil society representatives.