The News in Brief
Monday, September 18, 2023
Prepared by Messenger Staff
Georgian Defense Minister Juansher Burchuladze Explores Hungary's Defense Industry Developments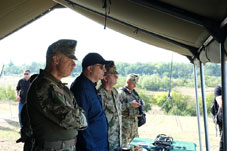 The press service of the Ministry of Defense of Georgia is spreading the news that the Minister of Defense of Georgia is continuing his visit to Budapest. During his visit, Juansher Burchuladze received updates on the local defense industry from his Hungarian colleague and gained insights into Hungarian military capabilities.
According to a press release, the Minister of Defense of Georgia visited the Hungarian unmanned aerial vehicle company Rotors and Cams, where he familiarized himself with the extensive array of industrial, law enforcement, and military products designed by the company for the local market. Additionally, a static display of drone technology was specially organized for the Georgian delegation.
The Minister of Defense of Georgia was hosted by his colleague Kristóf Szalay-Bobrovniczky. Following an official welcoming ceremony at the Ministry of Defense of Hungary, the two parties engaged in discussions concerning cooperation in the field of defense and explored prospects for future bilateral relations during their meeting.
The Minister of Defense of Hungary emphasized Hungary's support for Georgia's Euro-Atlantic integration. He further mentioned that next year, when Hungary takes over the presidency of the Council of the European Union, it will have an even greater opportunity to support Georgia.
Investigation Initiated by United National Movement into Prime Minister, Tbilisi Mayor, and Former Prosecutor General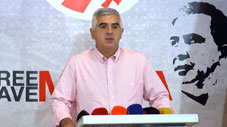 The United National Movement is initiating an investigation into Prime Minister Irakli Gharibashvili, Tbilisi Mayor Kakha Kaladze, and former Prosecutor General Otar Partskhaladze in response to the sanctions imposed on Partskhaladze by the US State Department.
One of the leaders of UNM, Giorgi Botkoveli, referred to leaders of the ruling Georgian Dream party as 'criminals'.
"We witnessed concrete facts provided by investigative journalists yesterday on Nodar Meladze's Saturday program. It confirmed the nature of the criminal activities of Irakli Gharibashvili, Kakhi Kaladze, and the type of business activities in which Partskhaladze is involved. Partskhaladze, who is now a Russian citizen while unlawfully retaining his Georgian citizenship, is implicated due to the decision of the chief spy, Bidzina Ivanishvili."
The National Movement is demanding that the prosecutor's office initiate an investigation into Otar Fartskhaladze, Irakli Gharibashvili, and Kakhi Kaladze in connection with these facts. - "who, with the money of the Georgian people, organize their own comfort against the interests of the Georgian people in Georgia and engage in criminal activities," Botkoveli stated.