Georgia's participation to Sochi Olympics still in question
By Ana Robakidze
Thursday, October 10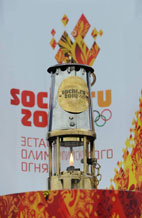 Boycotting the Sochi Olympic Games has become the most arguable topic among Georgians. While the government once again confirmed that the decision to participate in the games is not planned to be revoked yet, dissatisfaction of the citizens is increasing daily.
A petition calling to boycott the games, which appeared online on October 8th, received over 6,000 signatures within only 24 hours. Representatives of Georgian NGOs and the civil sector have already warned the government. In case the petition does attract enough attention, peaceful rallies will take place in the country.
Russian MP Vladimer Jirinovski told Imedi TV that boycotting the games will show how "weak" Georgia is. "Sport is not a part of politics..." he said.
The Georgian government says the decision to participate will be revised only if there are clear signs that for Russia, politics transcends sports. Opposition parties and a vast number of citizens are sure that the "creeping annexation" and making the August War pilot one of the Olympic torchbearers, gives the country no right to join the games.
Georgian MPs say the government should be very careful with its decision. Head of the Parliamentary Foreign Relations Committee, Tedo Japaridze, is sure that national interests and public opinion should serve as guidance to the government and the final decision should be accepted accordingly.
Chairperson of the Georgian parliament, Davit Usupashvili commented on the games and reiterated the government's position. "If Russia tries to turn the sport event into a political one, then we shall have to take a political decision too. I personally think that giving the role of torch carrier to the Russian military pilot, was a provocative step and was a message not only to Georgia but to the whole democratic world. States choose their heroes and we do not teach others of course, but, in such situations, the states pay particular attention to the context of such decisions," he said.
According to the National Olympic Committee of Georgia, only four athletes have obtained Olympic license so far. The athletes say that the Olympic Games is very important, but based on the national interests they are ready to boycott the games if the government decides so. Many think that Georgia never had strong athletes in Winter sports and no one is expecting medals from them anyway.