NBG hosts Sustainable Finance Conference in Tbilisi
By Nika Gamtsemlidze
Monday, November 4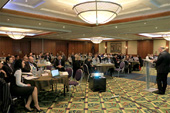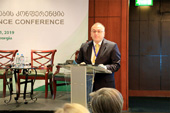 The National Bank of Georgia (NBG) in cooperation with the International Finance Corporation (IFC), a member of the World Bank Group, and the IFC-supported Sustainable Banking Network (SBN) hosted a Sustainable Finance Conference in Tbilisi.
The conference brought together IFC experts, representatives from SBN member countries and regional central banks, senior representatives from the relevant ministries, Presidents/CEOs and senior leadership of financial institutions, international organizations and other stakeholders.
Governor of the NBG, Koba Gvenetadze, delivered a speech, emphasizing the importance of transparency and disclosure and the integration of environmental, social and governance (ESG) considerations into decision making to ensure financial stability and long-term sustainability.
"In order to encourage the development of sustainable finance, regulators and central banks should take intellectual leadership in developing standards and promoting consistent ESG reporting. The NBG has been actively working in that direction since joining the SBN in 2017," noted Gvenetadze.
The conference was the second event that the NBG hosted in cooperation with IFC on sustainable finance. Since the first workshop in September 2018, the NBG has made significant progress towards the development of a sustainable finance framework in Georgia.
A key achievement was the launch of the NBG's Roadmap for Sustainable Finance in Georgia. The Roadmap in April 2019, which summarizes all possible actions that the NBG intends to implement regarding sustainable finance development in the near future. The roadmap has been created in close cooperation with SBN/IFC.
The ultimate goal of this roadmap is to provide a credible, predictable and stable regulatory framework and prepare the market for transitioning to sustainable finance. Additionally, the NBG, with the support of IFC, integrated ESG considerations into the Corporate Governance (CG) Code for Commercial Banks. These considerations are now being incorporated in the CG Code for Capital Markets participants as well.
Mary Porter Peschka, Director of ESG Sustainability Advice & Solutions at IFC, noted that "Georgia has made tangible progress in advancing sustainable finance in recent years. Since it joined SBN in 2017, NBG has demonstrated a strong commitment to developing the country's sustainable finance regime, leveraging peer-learning opportunities that come from being an SBN member. We look forward to continuing supporting NBG to implement the Roadmap, setting an example for other countries in the region."
During the conference, participants discussed challenges regarding sustainable finance, the role of national policy documents like roadmaps in facilitating sustainable finance development, the importance of transparency on ESG issues, and the rationale behind disclosure requirements. Participants emphasized the role of financial supervision, current regulatory experience and initiatives.