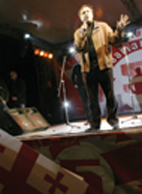 Mikheil Saakashvili, campaigning for reelection to the presidency, met with voters in Kvemo Kartli province and in Tbilisi on December 11, promising a "newly triumphant Georgia" and an end to the country's poverty should he get another term in office.
(more)

Labor leader Shalva Natelashvili told foreign diplomats that Georgia's foreign policy and international commitments would remain the same if he wins the January 5 presidential election, on December 11.
(more)
Industry professionals are split on whether celebrity TV journalist Inga Grigolia's new show, "Prime Time," will be the prime of her career.
(more)